Allergies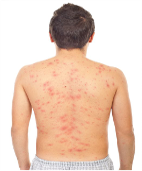 An allergy is a normal reaction of the body's immune system to certain substances. It can either be genetic by nature or environmental. Generally, the human immune systeminitiates it's defense mechanism to protect the body from any harmful bacteria or viruses. At the same time, the immune system similarly reacts when it encounters allergens, which the body interprets as a foreign substance. In normal situations, these reactions are very minimal and kept at a certain level. For some however, specifically those who are genetically allergic to certain substances, these reactions can put their lives at serious risk. Certain types of allergens, such as pollens, dust mites, nickel, latex rubber, heavy scents and leather, can push the human immune systemto release excessive amounts of histamine. This particular chemical is normally produced to protect the body against harmful elements. However,it can also lead to serious allergic reactions for certain people.
Types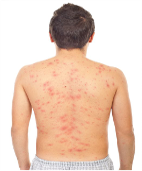 Allergic Skin Conditions
Many factors can cause skin irritation. This condition can be due to extreme heat during summers, or it could be caused by certain medications. A fungal or bacterial infection will probably cause another type of skin irritation. However, the most significant factor that causes skin irritation is an immune system disorder. Depending on the level of allergic response in each case, this reaction can likewise lead to serious skin allergy. However, a thin line exists between a simple skin rash and an allergic skin condition.

Drug Allergies
When a medical history is taken, it is vital to identify any drugs that cause reactions. Some have side effects, and others can prompt allergic reactions. In these cases, the immune system may work vigorously to remove a foreign substance, with potential harm, from the body.

Environmental Allergies

Environmental allergies are the response of the body toward inhaled substances. Animal dander, dust, mildew, mold spores or feathers can cause these allergies. The dust and mold allergies will differ from pollen allergies as they are going to cause problems throughout the yearand not just for specific seasons.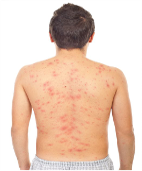 Food Allergies
People must be aware of food allergies. They also need to identify the foods that their digestive system simply cannot process. One good example is the condition of lactose-intolerance among many individuals. It may surprise others to know that this situation is not a case of foodallergy but intolerance. Meaning, the particular person's body is not capable of processing lactose-rich food such as milk.

Hay Fever

This condition is caused by an pollen allergy. Some of the common hay fever symptoms include blocked/runny nose, itchy eyes and sneezing. An antihistamine nasal spray is one of the common treatments. Other treatments may be used if the regular ones do not work well.

Pet Allergies

This allergic reaction results from the proteins that are found inside the skin of an animal's cells, urine or saliva. The signs of a pet allergy are similar to a person experiencing hay fever such as runny nose and sneezing. Other signs include breathing difficulties and wheezing.

Seasonal Allergies
In the United States, rhinitis is a common condition that affects more than 50 million individuals. The typical symptoms will include nasal congestion, runny nose, sneezing and nasal itching.
Appointment Request


Affiliations
Long Island Jewish Medical Center
270-05 78th Avenue
New Hyde Park, NY 11040
North Shore University Hospital
300 Community Drive
Manhasset, NY 11030
Winthrop University Hospital
259 1st Street
Mineola, NY 11501

Accepted Insurance Plans
MVP Health Care Preferred Care: two plans
HIP Health Plan of New York: two plans
Empire Blue Cross Blue Shield: two plans
Unicare: two plans
Blue Cross Blue Shield of Illinois: two plans
Univera Healthcare: one plan
Neighborhood Health Plan (NHP): one plan
Oxford Health Plans: two plans